| | |
| --- | --- |
| EMERGENCIES | Free Reports and Books for Emergencies |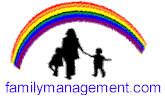 Talking with Your Child When Someone has Died
From "A Parent's Guide: Helping Children Understand" by Hospice of North Central Florida
Talking with Your Child When Someone has Died

Adults commonly make statements that confuse children rather than help them understand The following are statements that should be avoided when talking to your child about the death of a loved one.

"Grandpa has gone," or "We've lost him." When people go away, they come back. When we lose things, they can often be found. But, when someone dies, they do not come back and cannot be found.

"Grandpa has gone to sleep forever." Your child may become afraid to go to sleep, believing that he or she may never wake up.

"Grandpa is watching over you from heaven." Your child may develop a fear of making mistakes or feel like he or she is being spied upon.

"Grandpa was so good that God chose him to come and live in Heaven." Your child may wonder about the value of being good.

Therefore, it is best to simply tell your child, "Grandpa has died."

Reassure your child that you are going to be there to care for him or her. Help your child understand that he or she did not cause the death and that he or she is in no real danger of dying anytime soon.

Encourage your child to ask questions.

Reassure your child that memories of the person who died will be maintained through pictures and other mementos. Making a memory book of pictures, or a memory box in which special items are placed are good ways to help the child keep the memory of the person alive. Also, planting a tree or a flower to honor the person who died can serve as a memorial.

Children often have very concrete questions, such as: "How deep is the grave?" or "Why is she so pale?" These questions are normal and should be answered honestly, using words that the child can
understand.

Copyright © North Central Florida Hospice, Inc. 1996
Please note: These articles are being made publicly available in the hope that they benefit others in the hospice community. Feel free to use printed copies provided you credit Hospice of North Central Florida with sole authorship, do not alter the content, and do not include them in larger collections intended for sale. Permission from North Central Florida Hospice must be obtained to use these materials in any manner other than stated above. Please include this note in any copies you choose to make. Thank you.
---
Return to All Family Resources
© 1998 All rights reserved. All Family Resources