Book Highlights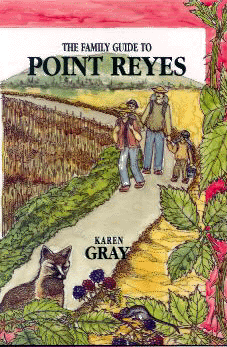 Sharing the splendors of nature - beaches, trails, fising, whale watching, or whatever - is an ideal way to spend enjoyable time with your children. There are opportunities for learning as well as great fun.
The scenic Point Reyes National Seashore offers many family-friendly delights, such as:
--The beaches in Point Reyes National Seashore offer a great variety of activities including surfing, swimming, picnicking, walking, sunbathing, and enjoying panoramic views. For gentle waves, try the Tomales Bay beaches such as Heart's Desire or Chicken Ranch.
--Orange sea stars and turquoise sea anemones are among the aquatic life on view in tidepools at McClure's Beach. Children will find a whole world of water animals contained in a single pool shimmering at their feet.
--Sunsets viewed from Mount Vision and moonrises from the Bolinas Ridge Trail offer exquisite coloring for you evenings.
--Children will love to experience the tule kotchas, granaries, and sweat lodge and ceremonial house at Kule Loklo, a recreated Coast Miwok village set in a clearing sheltered by hills and trees with a magnificent view of the mountains to the east.
--Leopard shark caught in Tomales Bay is delicious if skinned right away and grilled or fried.
A hike from Bolinas up the Coast Trail in winter or early spring will delight children and adults with views of Allamere Falls.