Introduction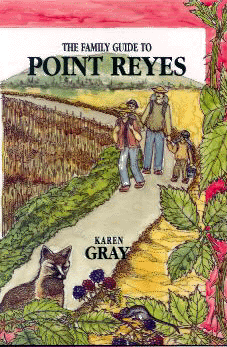 The pleasures of swimming, whale watching, sand castle building, or hiking the trails of Point Reyes National Seashore are among the activities featured in The Family Guide to Point Reyes. The book gives a full picture of family-oriented pastimes in the dramatic scenery of Coastal Marin in California.
Published as a benefit for Papermill Creek Children's Corner, a community child care center, author Karen Gray explains, "This book grew out of the questions from the many guests who stayed at my bed and breakfasts. It confirmed for me that this is a place of many blessings for those who live here, especially for our families. Papermill Creek Children's Corner is one of those blessings. The Family Guide to Point Reyes is dedicated to the staff there, people who know the value of our little ones - priceless"
The guide includes information on everything from safety to restroom locations in addition to maps, nature stories, and descriptions of the features of West Marin as appropriate for all ages. Readers will find out where to see the best sunsets, fish for striped bass or perch, ride a llama, and enjoy the pleasures of the unique small towns. Each section contains detailed and accurate directions and special features.